Google has become the go-to search engine for many individuals and businesses, known for its vast resources, unparalleled power, and lightning-fast speed. The phrase "Google it" has become synonymous with the act of researching information online. With the ability to connect people and companies from all over the globe, many professionals in the hospitality industry are leveraging Google Business Profiles for hotels to build their customer base and promote their properties.
Given that Google is the most popular website globally, it's no shock that they rule the search engine industry. To be precise, as of January 2022, Google's market share was 91.9% according to GS Statcounter.
In this article, we will explore Google Business Profile for hotels in detail and how it works. We will examine the platform's functionality, the reasons hoteliers are utilizing it, and the impact of optimizing your Google Business Profile for hotels on your online presence.
What is a Google Business Profile?
Google Business Profile is a free tool by Google that allows businesses to manage their online presence across Google, including Google Search and Google Maps.
With Google Business Profiles, businesses can create and update their business information, such as their address, phone number, website, hours of operation, and customer reviews.
This information is then displayed prominently in Google search results, making it easier and faster for potential customers to find and connect with the business.
When users search for a particular business or keyword deemed to have "local intent", GMB listings provide relevant results, such as hotels in a specific location or nearby.
For instance, when someone searches for "hotels Honolulu" or "hotels near me," Google will display business profiles of hotels in Honolulu.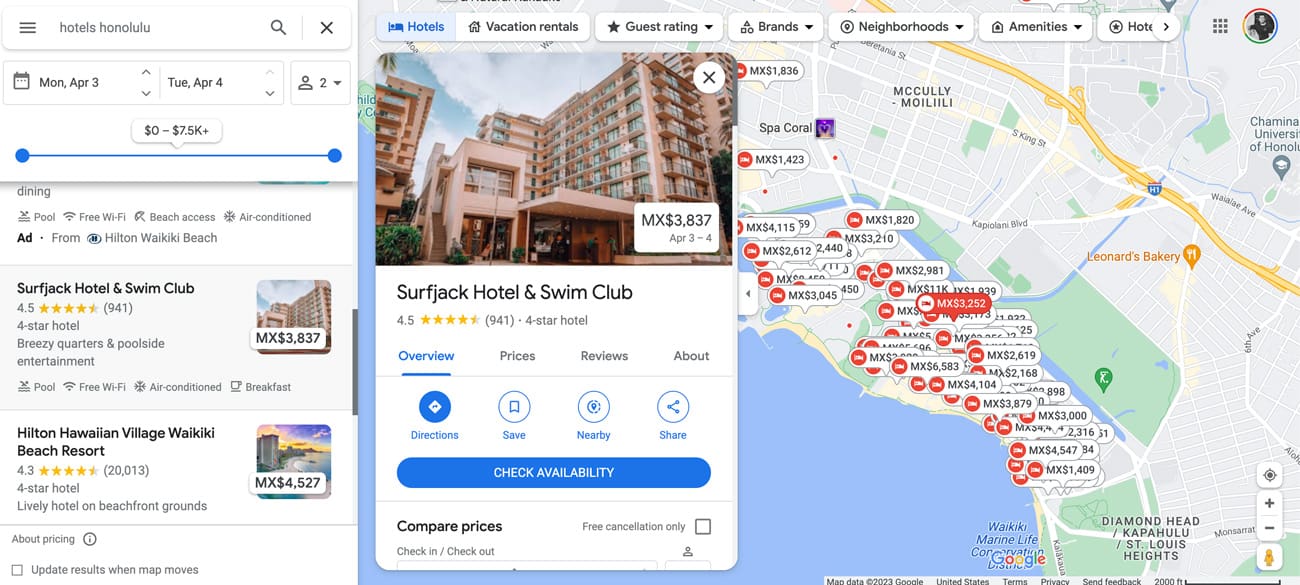 Should hotels utilize Google Business?
Short answer, YES! Your Google Business Profile is a very powerful tool in your marketing efforts and one you should be using.
Here are our top 5 reasons that your hotel should have an optimized Google Business profile:
Increased visibility
By creating and optimizing your hotel's Google Business listing, you can increase your visibility in Google search results as well as show up on Google Maps, making it easier for potential guests to find and learn more about your hotel.
Improved guest engagement
You can engage with your guests by responding to reviews, allow chat messages so people can easily contact you, add photos, videos and posts to showcase your hotel, as well as keep all your business information up to date.
Better search engine rankings
Optimizing your Google Business listing also helps to improve your SEO in turn improving your search engine rankings. This means you are more likely to show up higher in Google search results when people search for hotels in your area.
Valuable insights
Google Business provides valuable insights and analytics about your listing, such as how many people have viewed it and where they're located, which can help you make informed decisions about your hotel marketing strategy.
Cost-effective marketing
Google Business is a free tool that allows you to market your hotel business and reach potential guests without spending money on traditional advertising methods.
The reality is, if you have not got your business profile setup, you are missing out on a lot of opportunities.
How to set up your google business profile.
To benefit from GMB, hotels need an attractive, up-to-date, and accurate Google Business Page. Here's how to create one:
Step 1: Claim and verify your business account.
Log into your hotel's Google account or sign up for a free account if you don't have one yet. Start by searching for your hotel, either by business name or address. Then, find and select your hotel to claim the listing.
Google has step-by-step instructions on how to claim and verify your business profile on google which you can find here.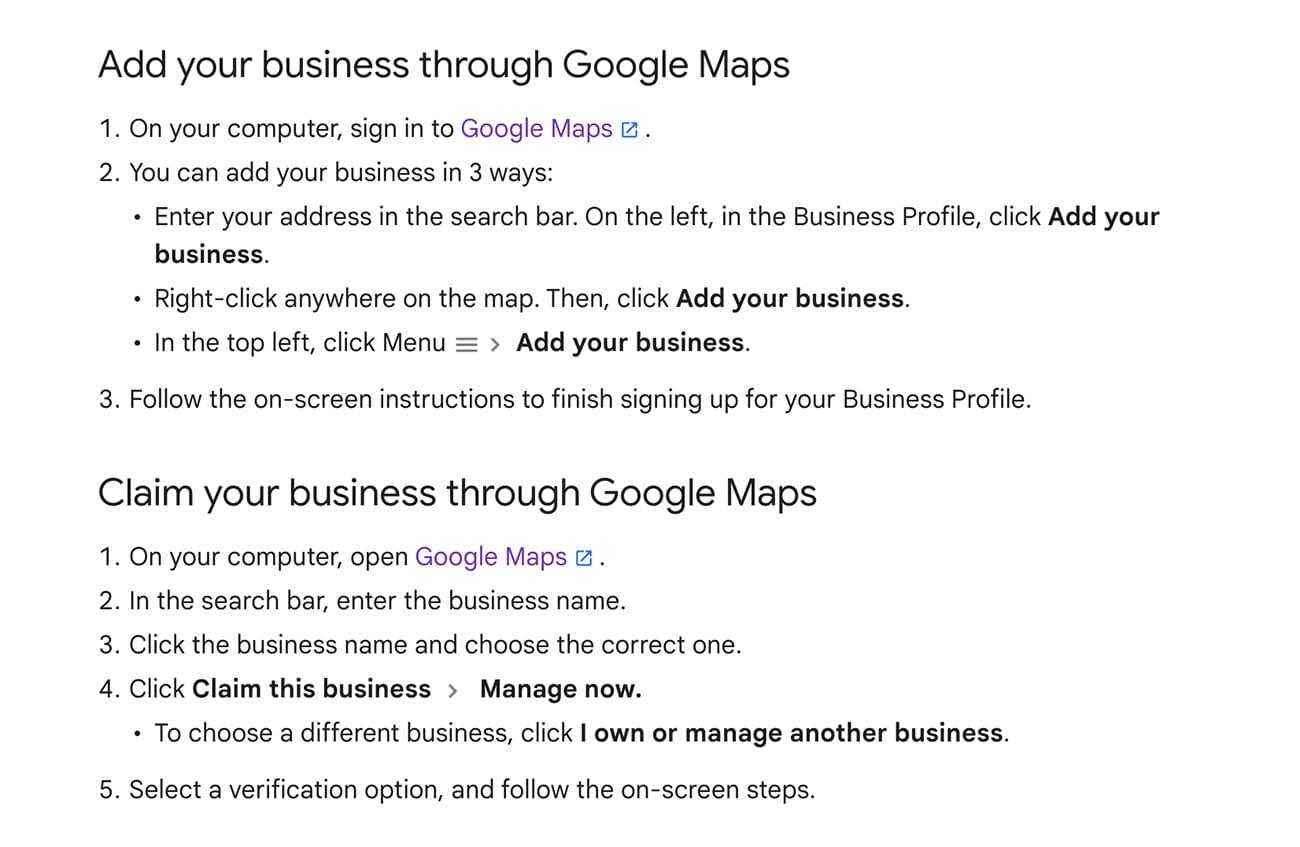 Once claimed, Google will send a notification to verify the listing via their annoying postcard code or phone.
Step 2: Create an informative and accurate business profile.
64% of consumers use a business's Google Profile to find contact information and location details. To make it easy for potential guests to find and book with you, ensure that your contact information is up-to-date and that there are reliable means of communication for those who want to speak with someone on-property.
Google takes informational inconsistencies into account when assessing the credibility of a business. Having inconsistent hotel information listed in various places on the web could cause your hotel to appear lower in search results. This applies to your exact name, the exact address, and contact numbers. This is known as NAP, name, address, phone and it's important that you keep this the same across all platforms and everywhere you show up online.
The "Business Profile" section of your business account contains your contact information, location, and hours of operation. Double-check this section for accuracy before publishing. Make sure that your hotel name, location, and contact information match your property's signage and other hotel listings published on the web.
To improve your hotel's online performance, create a Google Business Profile and manage it through Google Business or directly on search and map results. By doing so, you can enhance your hotel's visibility, connect with potential guests, and increase your direct bookings.
Step 3: Select the appropriate business category and hotel attributes.
Google Business provides various business page templates based on a business's category or industry. By selecting a business category, specific features related to that category can be included on the GMB profile, and the business can appear in search results for that category.
For instance, choosing the "hotel" category will prompt Google to display a star rating on the hotel profile. On the other hand, selecting the "restaurant" category will allow a business to add a digital restaurant menu or a "Make Reservation" button.
Once the best category for the hotel is selected, a list of "attributes" will be presented. These are hotel amenities or features that can be displayed on the hotel's GMB profile, such as free Wi-Fi, on-site restaurant, free parking, pet-friendly policies, and more.
Step 4: Upload photos, videos and link to other hotel pages and socials
To make the hotel stand out, upload 7-12 high-quality professional photographs that showcase the hotel's best qualities, such as guest rooms, hotel services, and unique surroundings, if applicable. It's also recommended to include a street view, 3D virtual tour, or photorealistic walkthroughs of the hotel. Linking the hotel's social media accounts, such as Facebook, Twitter, Instagram, or TikTok, to the GMB profile will enable online audience members to connect with the hotel easily.
However, it's important to avoid including generic images, stock photos, or logos, which can negatively affect the page's ranking. Google's algorithm prioritizes producing quality localized results and tends to reject generic GMB content. Therefore, it's best to avoid using stock content in posts, updates, or the hotel's main profile.
Step 5 : Play by Google's rules
You are in Google's playground now. So it is crucial to always adhere to Google's guidelines when managing your Google Business Profile.
Your profile operates within Google's platform, and failing to comply with their guidelines could result in the suspension of your profile.
Remember that your Google Business Profile is not just your own, but a community profile where anyone online can contribute content such as reviews, Q&As, updates, photos, and videos.
Google encourages user-generated content, but it is important to ensure that any content added to your profile is legitimate.
Optimizing your Business Profile
Getting the number 1 spot at the top of online search results can be a difficult feat to achieve and can take time. Fortunately, hoteliers and marketing managers for hotels can leverage the numerous tools and resources available on Google My Business to enhance their page's performance.
Update your GMB listing often.
Just setting up your profile is only one step of the process. It is very important that you keep your Google Business Profile updated. Ipsos Research reveals that an up-to-date profile is:
Is 2.7x more likely to be considered more reputable.
Gets 7x more clicks.
Is 70% more likely to attract location visits.
Is 50% more likely to lead to a purchase.
One very important thing to know here, and many businesses don't realize this, is that Google and any user can make changes to their Business Profile – like your address, hours, upload photos, reviews, and more.
Yes, you read it right, people can submit changes to your opening hours, say that you are closed and more. Therefore, it is essential to regularly monitor your profile to ensure that no inaccurate changes were made.
Keep your open hours up to date
According to the Google Consumer Barometer, 40% of local business searchers want to find hours of operation for local businesses. This means that as a business owner, you must keep your hours current, especially during the holiday season.
Fortunately, updating your hours of operation is easy to do through Google Search. When you select the "hours" section, you can provide detailed information about your business hours.
In addition to changing your hours of operation, which should reflect when your employees are located at your business, you can also choose to open with main hours, open with no main hours, temporarily close your business (and indicate when it will reopen), or permanently close your business (if it no longer exists).
Boost SEO contributions by responding to guest reviews.
When responding to guest reviews, it's important to be timely, professional, and courteous. Even if a guest had a negative experience, responding in a positive and helpful manner can show that you value their feedback and are committed to improving their experience.
You can also use reviews as an opportunity to thank guests for their positive feedback and encourage them to leave a review on other platforms, such as TripAdvisor or Yelp.
Don't be upset if you get negative reviews. Everyone will get them at some point. Take a bit of time to think about it, consider their feedback then respond in a courteous way. Remember that everyone else can see how you respond to them.
Engage with past and prospective hotel guests through Q&A.
In addition to answering questions, you can also use the Q&A section to provide additional information about your hotel, such as parking options, pet policies, or nearby attractions and replying to and answering them should be one of your priorities.
Many people looking to book will have questions, and will commonly turn to the Q&A section of your business listing to get a quick answer, where they can find questions and answers from past guests, prospective guests and hotel management.
Remember that Google Business Profiles can added to by anyone, so it's important you promptly reply to questions, otherwise anyone can answer and may give incorrect information
Always answer peoples questions respectfully and in a helpful way, avoiding 'yes', 'no' answers when possible. Always let people know they can contact you if they need more information. It's recommended that you DO NOT add links to your website in the Q&As, as this takes people away from the Google ecosystem.   
Having a helpful Q&A section can help potential guests make an informed decision about whether your hotel is the right fit for their needs.
Increase local business conversions with Google Posts.
While Google posts won't actually boost your page rankings, the posts themselves will show in a users search results page. Your posts will show as a thumbnail image with some text and the more you have of them showing up, the better the chance of standing out and getting the attention of customers.
When creating Google Posts, it's important to use eye-catching visuals and compelling copy that will grab users' attention and entice them to click through to your website.
You can also use Google Posts to promote limited-time offers or discounts to encourage users to book directly with your hotel.
Create and manage hotel advertising campaigns.
When creating advertising campaigns, it's important to target the right audience based on factors such as location, demographics, and interests. You should also set a realistic budget and regularly monitor your campaign's performance to ensure that you're getting the best return on investment.
Use key marketing insights to expand your audience and boost traffic.
In addition to monitoring traffic metrics, you can also use Google Business Insights to track user engagement with your posts and profile, including how many people have viewed your photos, clicked through to your website, or called your business. This information can help you refine your marketing strategy and better understand your target audience.
Grab our Google Business Profile Checklist
For a quick and easy assessment of your Google Business Profile you can grab our free checklist. This guide provides you with 30 essential steps you need to take to optimize your Google Business listing and attract more local customers to your business.
If you are just starting out it's super helpful to make sure you have completed all the steps.
If you are established and already have your business profile, it is a great tool for making sure you are optimized.
We constantly update it so it stays relevant and follows all of Google's new recommendations.